Summer's so close we can smell it! The sun is peeking out more and more often, and we're venturing outside for ever longer at a time. For us, that means looking forward to seeing people face-to-face again and experiencing life together. Grab your favorite people and enjoy the lightness of our newest success. Two of your foodspring favorites are now available in a vegan version! We think they taste twice as good when you eat them with friends.
Vegan Protein Cream
You asked, we answered. Our customer favorite by a mile is now here in a vegan version. And that's not all: our one-of-a-kind Vegan Protein Cream boasts carefully selected organic ingredients and less sugar.*
Whether you have a vegan diet or are just looking for more plant-based food in your life, we're here to show you just how delicious vegan food can be. You don't need to cut a thing out of your life to keep your favorite flavor around. Not convinced yet? Then read on!
Give vegan a chance
Certified organic ingredients
foodspring's Vegan Protein Cream is EU organic certified: the first of its kind!
You've surely seen the stars making the shape of a leaf on a green background before on other organic products. This seal guarantees ingredients from organic farming, as well as the absence of GMO in the product. Plus, the organic seal means a more transparent process for you, and makes it possible to trace the origins of each product.
100% plant-based products
If you want to eat vegan more often, but can't imagine breakfast without that oh-so-irresistible chocolate and hazelnut spread… no problem! Our Vegan Protein Cream contains 100% plant-based ingredients. Up at the top of the ingredient list, you'll find organic hazelnut paste and cocoa powder. Thanks to a special extraction process, we've been able to significantly reduce the fat content while keeping our cream vegan. All the better for the macro values!
A blend of 3 protein sources
We combine pea protein powder, rice protein powder, and sunflower seed protein powder to get a smooth result. These three are high-quality sources of natural protein. No soy involved – instead you get an extra portion of plant-based protein that's absolutely delicious! It's never been easier to incorporate vegan choices into your routine, so what are you waiting for? If you're still on the fence, keep reading. We've got more up our sleeve.
No palm oil
Feel good about your food! At foodspring we believe in being environmentally conscious across our whole line. Not a one of our Protein Cream contains palm oil. We've opted for sunflower oil and cocoa butter, which brings the maximum creamy taste. Because we care for the health of the planet as well as the health of every customer!
No maltitol
Our recipe doesn't contain maltitol, either. We use erythritol instead. This sugar replacement is found in small quantities in fruit, vegetables, and cheese. Industrially, it's produced from carbohydrates. The body only digests erythritol in minimal quantities, meaning it's nearly zero calories. And to add to that goodness, erythritol is one of the few sugar replacements that's available in an organic version. Only the best for you and your best buddies!
Vegan Protein Cream Recipes
Chocolate and hazelnut, sitting in a tree, minus some C-A-R-Bs. And with more fiber.* How do we love it? Let us count the ways… you can use our brand-new plant-based Protein Cream.
Vegan Protein Chocolate Cookies
Crispy on the outside, creamy on the inside. Our protein chocolate cookies have that special something. Right from the first bite, you'll be greeted by a creamy hazelnut core and a taste to knock your socks off! These are a treat worth baking for!
Get the recipe
Vegan Chocolate Babka Recipe
So fluffy, and extra chocolatey. This choc-layered rich babka is the perfect thing to bring along to get-togethers and share around. The absolute highlight for an outdoor picnic!
See the recipe now
Vegan Protein Cookies
When we say "protein cookies," do you think of a bone-dry protein bar that's just round like a cookie? We've got something better in mind. Crispy on the outside and moist on the inside. Less sugar, more flavor. Our brand-new Protein Cookies are available in three irresistible varieties.
Apple Cinnamon
The classic combo of apple and cinnamon brings such comfort. Imagine taking a bite during a summer thunderstorm while you're cozy inside. Snag yourself our apple-cinnamon Protein Cookies and enjoy dunking them in your tea with dairy-free milk and someone you love.
Blueberry Cheesecake
Fruity blueberries meet creamy cheesecake. Our mouths are already watering. Instead of a fat-packed, sugar-loaded cheesecake, bring a handful of our Vegan Protein Cookies to your next picnic with friends. No dairy, no added sugar: just an extra pump of protein.
Salted Caramel
Deliciously caramelly with a pinch of salt. Our Salted Caramel flavor protein cookies give you the sweet and salty taste experience you crave. The perfect thing for when you're in the mood for a healthy snack but can't decide!
You've just got to try all three. Otherwise, how will you be able to figure out which one is your favorite?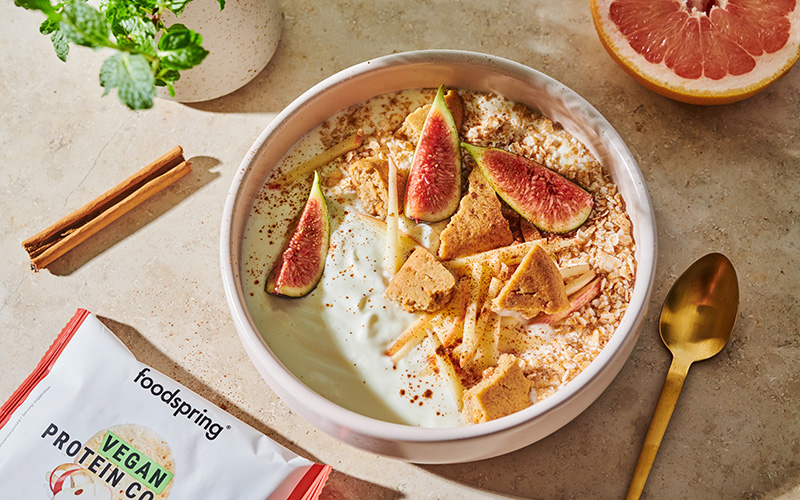 A flavor explosion you have to taste to believe
If you aren't convinced yet by the amazing flavors, read on to find out about the highest quality standards that our cookies stand up to.
Plant power from start to finish
Milk-free, egg-free, and still tastes just like a cookie should. How do we do it? By choosing only the best, fully plant-based ingredients.
High-protein cookie experience
Cookies with an extra hit of soy-free protein: Welcome to cookie heaven! We bake our high-protein cookies with protein powders from wheat, broad beans, and chickpeas. This lets us deliver not only the ultimate cookie texture, but also that perfect protein mix your muscles crave. These delicious cookies provide you with the full essential amino acid profile. These cookies won't stand in the way between you and your feel-good body!
Vegan Protein Cookie Recipes
Whether it's in a shake, with ice cream, or on top of a breakfast bowl: these cookies are here to delight you. It's a cinch to cut out animal products with options like these! With nutritional values that support you hitting all your goals.
Fudgy Protein Shake
Hot summer days call out for ice-cold drinks! If you want to give your body some extra energy and protein, you simply can't miss this recipe for our fudgy protein shake. Leave out the ice cubes and you've got yourself a cooler to sip as you take a walk with friends.
Get the recipe
Vegan Blueberry Cheesecake
Summertime means fun in the sun! There's nothing better than staying out on those long, bright evenings around a grill with your friends. After all the savories of the barbecue, we're always in the mood for something sweet to round out the evening. This no-bake cheesecake recipe is sweet and fruity. It's delightfully refreshing and a real eye-catcher too.

Get the recipe
Vegan Apple Crumble Cake in a Glass
Go from zero to ready in the blink of an eye. Perfect to take along when you're on the go. Our Vegan Protein Cookies turn this apple streusel cake from a treat into the highlight of your day.
Get the recipe
Vegan Protein Ice Cream Sandwich
They're the absolute dream team: Ice cream and your new favorite cookies. Full plant power with a protein twist. Mix things up for yourself! Try this nice cream with any fruit that strikes your fancy!
Get the recipe
*as compared to conventional vegan chocolate-nut spreads
Article sources
We at foodspring use only high-quality sources, including peer-reviewed studies, to support the facts within our articles.
Read our editorial policy
to learn more about how we fact-check and keep our content accurate, reliable, and trustworthy.