Lose weight¹, not patience. Get a scoop and level up! Our new meal replacement shakes are here to support your weight loss starting right now¹. High in vitamins and minerals, with just the right number of grams of protein and fiber, and a gluten-free recipe to boot. Discover everything you need to know about Shape Shake 2.0, our best meal replacement shake, and our brand-new vegan version.

Recently, you've been doing everything you can to get closer to your goals, prioritizing the most important things: a balanced, healthier life. Your #mynewnormal is working on the best version of yourself.
But everyday life is stuffed with to-do lists and one phone notification after another. In hectic moments, the brain's reward system screams for comfort food, and you might make a snap decision at the expense of your nutrition goals.
Forget about sugary, fatty fast food that only gives you a moment's boost. Opt for food that's fast and good for you, too. You can prepare your Shape Shake 2.0 meal replacement shake in less than a minute. Just one of our meal replacement shakes has everything your body needs, without any extra grams of sugar!
If your diet is plant-based, and you don't want to miss out on your meal replacement in a shake form, we've got just the thing for you. Our new Vegan Shape Shake 2.0 will fill you up with plant power while supporting you in your weight maintenance or weight loss journey¹. The shake is based on the super trio of chickpeas, fava beans, and flax seeds, serving up an extra portion of protein to your muscles3. Available in three new flavors!
Let's get real for a moment. There's nothing that can really replace a freshly-cooked meal. That's why we recommend you make sure you're always within a moderate calorie deficit of between 200-500 calories. Any more than that will only lead you to short-term results and can result in deficits in your nutrition. If you want to lose weight, it's even more important that what you eat is healthy and balanced. While you replace 1-2 meals with our shake, you should keep an eye on the rest of your diet to make sure it stays varied, balanced and colorful. Use the variety of foods out there to the max and cover all your nutrient bases. Get enough carbohydrates, fats, and proteins – as well as vitamins and minerals – in your meals. Check regularly that you're not overshooting the maximum recommended 500-calorie deficit.
Shape Shake 2.0 – Your favorite shake just got an upgrade
There's no progress without a bit of change. So if you want to get closer and closer to those goals, you have to evolve to reach them.
Our nutritional scientists in product development examine the latest research for you and match it with your needs. We always aim to bring you closer to your individual goal.
Developed and produced in Germany, our products are the best in the world. With Shape Shake 2.0 we have taken your favorite product to the next level. With more calories from good carbohydrates and fiber, our shakes are not a snack, but a whole meal. Thanks to their new formula, these meal replacement shakes can now actively help you reach your weight loss goals¹ ², whether you are looking to lose weight¹ or maintain a healthy one².
Complete meal replacements 
Are you trying to reach your feel-good weight and lose a few pounds¹? Then the Shape Shake 2.0 as a lower-calorie meal replacement provides you with everything you need, with only about 206 calories per serving from proteins, carbohydrates, fiber, and fats. On top of that, the meal replacement shakes are a source of 24 added vitamins and minerals, including Vitamins A, D, E, C, B12, iron, and zinc. Lots of power per serving for your diet to get you there faster!
High-fiber meal replacement shakes
Thanks to oats, linseed, and inulin, the Shape Shake 2.0 is rich in fiber. Dietary fiber is mainly found in foods such as whole grains, legumes, fruit, and vegetables. Your body cannot or can only partially digest them with enzymes, and therefore they are excreted largely undigested. As bulking agents, they also bind water to themselves. Consuming fiber-rich food often involves a lot more chewing.
Protein for your muscles
As the basic building blocks of your cells, proteins are indispensable. Alongside carbs and fats, they are one of your body's main energy suppliers.
Each serving of our meal replacement shake provides you with 25 grams of high-quality whey protein from NZMP-certified cows' milk, which means the cows who provide our milk are free to graze outdoors for 328 days of the year. An extra dose of protein to protect your muscles³. You can taste the difference with every sip.
Sweetened with steviol glycosides
The Shape Shake 2.0 is low in sugar and thus low in unnecessary calories. These meal replacement shakes get their sweetness not from adding grams of sugar but instead from steviol glycosides extracted from the leaves of the stevia plant.
A balanced meal on the go
Whether you're heading to the office, yoga, or on vacation, the Shape Shake 2.0 goes from powder to done in under a minute. Mix 350 milliliters of water with 60 grams of powder and shake vigorously – no milk necessary. Enjoy your meal replacement straight from the shaker or in a glass.
Lose weight with the Shape Shake 2.0
Weight loss sounds simple in theory. If you consume fewer calories than you burn, over time, you will lose weight. This so-called calorie deficit is achieved by reduced calorie intake and a higher activity level. Our nutrition diary contains a calorie calculator, which you can use to find out how big of a calorie deficit you'll need to hit your own goals in a healthy and sustainable way.
Practically speaking, we all know that when time gets tight, we might feel a lack of motivation or self-control, or lofty nutrition plans can be quickly thrown overboard in favor of an unhealthy meal.
Our Shape Shake 2.0 is here to help you in everyday life. Do you have a dinner date tonight? No problem! Our meal replacements can make sure you reach your daily calorie deficit¹. Simply replace two meals with Shape Shake 2.0 before you go out for dinner to help you stay on track. You'll take in fewer calories without compromising on nutrition. The meal replacement shakes are available in vanilla, chocolate, and cookies & cream flavors, plus the two newest flavors: chocolate peanut butter and white chocolate almond.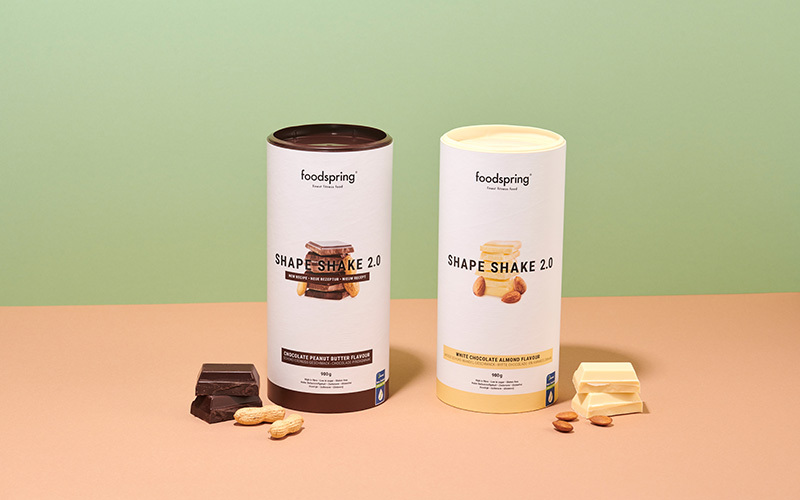 Find your favorite flavor
¹ Replacing two meals a day with Shape Shake 2.0 contributes to weight loss in a low-calorie diet. Shape Shake 2.0 must be used as part of a low-calorie diet, which necessarily includes other foods and adequate daily fluid intake. To maintain a healthy lifestyle, it is important to maintain a balanced and varied diet.
² Substituting Shape Shake 2.0 for one meal a day as part of a low-calorie diet helps maintain weight after weight loss. Shape Shake 2.0 must be used as part of a low-calorie diet, which necessarily includes other foods and adequate daily fluid intake. To maintain a healthy lifestyle, it is important to maintain a balanced and varied diet.
3 Protein contributes to the maintenance of muscle mass.
Article sources
We at foodspring use only high-quality sources, including peer-reviewed studies, to support the facts within our articles.
Read our editorial policy
to learn more about how we fact-check and keep our content accurate, reliable, and trustworthy.
Verordnung (EU) 2016/1413