Zucchini Chocolate Brownies
vegan, full of protein & super moist
Do the brownies in your favorite cafe always taste moister than what you make at home? We'll share our secret for irresistibly fudgy brownies: it's zucchini! Sounds strange at the beginning, but once you've tried the green stuff in your batter once, you'll never go back. This sends your brownies to the absolute next level and you'll enjoy your favorite dessert, extra moist! And because anyone can do a chocolate brownie, we've added some of our Just Nuts spread: a true pleasure combining chocolate with roasted peanuts.
Preparation
Preheat the oven to 180° C.

Line a 15x23cm baking dish with parchment paper, or grease it.

Put all the dry ingredients (except the chocolate chips) into a large bowl and mix well.

Ingredients:

200 g

zucchini ,

60 g

unsweetened applesauce ,

60 g Just Nuts

,

60 ml

soy milk

Add the wet ingredients to the dry. Stir well until a smooth batter has formed.

Ingredients:

80 g chocolate chips

Add the chocolate chips. Stir.

Put the batter into the prepared baking dish.

Top with nuts, more chocolate chips, and Just Nuts as desired.

Bake for 35-40 minutes at 180° C.

Set the chocolate brownies aside to cool.

Enjoy!

Our Tip: Moist cheesecake chocolate brownies
If you like chocolate, but the full fudginess of chocolate brownies is just a bit too much for you sometimes... how about our
fudgy cheesecake brownies with cherries
? The tartness of the cherries and the creamy cheesecake layer are the perfect balance between chocolate and fruitiness.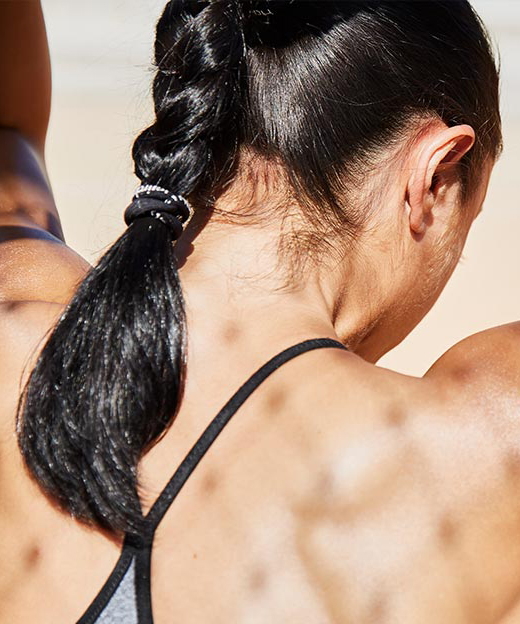 Free Body Check
Want to improve your nutrition? Our Body Check will help!
Personal BMI Calculation
Helpful nutrition advice
Products to help hit your goal
Get started