Zoodle salad with peanut-coriander pesto
a fresh green bowl for warm summer days
When you hear "pasta with pesto," you probably think of bog-standard restaurant fare. That, or the thing you whip up when you just can't figure out what else to cook. Right? We dare to think differently. When we think of noodles and pesto, our minds wander to this light and totally different zoodle salad (a.k.a. courgetti) with a Thai-inspired coriander and peanut pesto. Have we got your attention yet? We don't know about you, but we can't think of much better than a refreshing noodle salad for the early days of spring and summer. And we just love the color green so much that Anne-Sophie from our Test Kitchen whipped out her spiralizer and magicked us a delicious, simple, and vegan recipe. The noodles are made of zucchini. Homemade pesto is such a natural pepper-upper, and when you make it with coriander, lemon, and peanut butter, you've got something so different and so irresistible, you'll not only win yourself over, but anyone else you choose to share the joy with. Make it your new go-to summer recipe: for a light meal, as a side dish for picnics or barbecues, or any other time you're in the mood! Turn your friends green with envy!
Preparation
Ingredients:

1 tbsp Peanut Butter

,

30 g

coriander leaves ,

1 clove

garlic ,

1 tsp

soy sauce ,

 

juice of 1/2 lemon ,

 

salt, pepper

Put all the ingredients for the pesto into a bowl. Use a stick blender to puree. If you like your pesto extra smooth, add a splash of water.

Ingredients:

30 g sugar snap peas (mangetout)

Boil a pot of salted water. Blanch the snap peas (mangetout) in the water for about 3 minutes.

Ingredients:

300 g zucchini (courgette)

Spiralize the zucchini into zoodles with a spiralizer. If you don't have one, you can also use a peeler to get the same effect.

Put the oil into a pan over medium heat. Add the zoodles and heat for 2-3 minutes, stirring regularly.

Ingredients:

40 g edamame ,  

Now add the edamame to the pan. Cook with the zoodles until the edamame start to get a bit more color.

Meanwhile, chop the walnuts. Put the chopped nuts and Protein Flakes into a dry pan over medium heat. Toast until they are crispy.

Cut the peas (mangetout) into pieces.

Stir ¾ of the coriander pesto into the zoodle salad with the edamame. Stir to mix.

Ingredients:

30 g arugula (rocket)

Put the zoodle salad into a bowl. Garnish with the arugula and the peas.

Ingredients:

0.5  spring onion ,   watercress, salt, pepper

Garnish your zoodle salad with Protein Flakes, walnuts, spring onions, and watercress to your liking. Drizzle the rest of the pesto over the zoodle salad. Finish with a squeeze of fresh lemon juice.

Enjoy!
Which vegetables can I use for my zoodle salad?
The sky's the limit! Try it with carrots, sweet potatoes, or beetroot, just to name a few. You can make courgetti from a huge number of different vegetables! And if you mix a few kinds of veg at once, you'll have a gorgeous rainbow effect for your courgetti salad. Don't stop with this pesto dish, though. Try it in your old classic, spag bol, to impress any friends who eat lower-carb, gluten-free, or are just up for new flavors! We have a vegan recipe for
zoodles with lentil bolognese
you won't want to miss.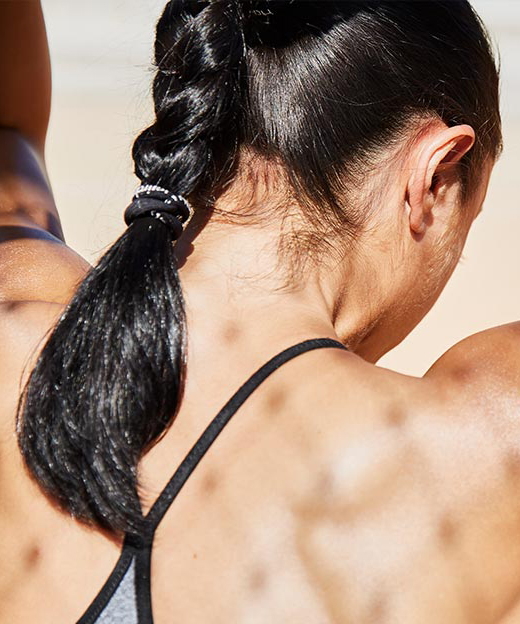 Free Body Check
Want to improve your nutrition? Our Body Check will help!
Personal BMI Calculation
Helpful nutrition advice
Products to help hit your goal
Get started