Seared Tuna poke bowl
a sunny Hawaiian salad bowl
The perfect light dinner for the summer – this tuna poke bowl is fresh and filling. Served with fresh cucumber, edamame beans, mango and avocado plus a homemade wasabi mayo. The tuna steaks are coated in sesame seeds before a quick sear so that it retains its beautiful pink hue inside but gains a crunchy exterior.
Preparation
Place the quinoa into a sieve and rinse under cold running water. Drain and add to a small pot along with the 200ml water. Bring to a boil then turn the heat down to simmer. Leave to simmer for 10-15 minutes until cooked through then drain the quinoa well and return it to the pot. Cover with a lid and leave to sit for 5-10 minutes to absorb any remaining liquid.

For the wasabi mayo, whisk together the yogurt, neutral whey protein and mayonnaise until smooth. Add the wasabi to taste (different brands will vary in strength, it's usually quite strong so start with a little and add more as needed).

Brush the outside of the tuna steaks with a little of the wasabi mayo then sprinkle the with the sesame seeds all over, pressing down so they adhere.

Heat the coconut oil in a medium frying pan over a high heat. Once hot, add the tuna steaks and cook for 1-2 minutes on each side (depending on thickness), then remove to a cutting board and slice.

Divide the cooked quinoa between two bowls. Top with the cucumber, edamame, mango, avocado and sliced tuna. Garnish with the crispy nori, spring onions and drizzle on the wasabi mayo. Serve with soy sauce for drizzling if you'd like.

Enjoy!
If you can't get tuna, try this out with salmon instead. If you're vegetarian, try cubing up firm tofu, spraying with oil and baking at 180C for 30 minutes until crispy to use instead of the tuna.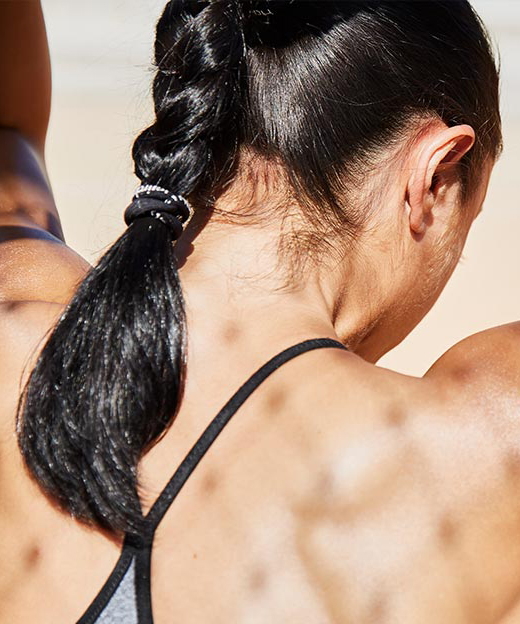 Free Body Check
Want to improve your nutrition? Our Body Check will help!
Personal BMI Calculation
Helpful nutrition advice
Products to help hit your goal
Get started