Sweet potato chicken bowl
Extra delicious with sesame dressing
Carbs, Proteins and healthy fats – this sweet potato and chicken bowl has everything you need for your muscles and a healthy lifestyle. Whether you're currently working on building muscle or are just trying to keep your hard-earned muscles in shape, you can't go wrong with this Buddha bowl recipe!
Preparation
Preheat the oven to 180° C.

Wash the sweet potatoes and slice into 1cm-thick slices. Cut the broccoli into florets.

Put the vegetables and the chicken breast on a baking sheet. Cover the chicken with half a tablespoon of olive oil. Drizzle the rest of the oil over the vegetables. Season with salt, pepper and paprika.

Roast in the oven for about 30 minutes.

For the dressing: Stir together the tahini with honey and mustard. Season with salt and pepper, and use 3-4 tablespoons water to thin the mixture out until it has a creamy consistency.

Spread the lamb's lettuce in a wide bowl. Arrange the sweet potatoes, broccoli, chicken and egg in the bowl and drizzle with the dressing.

Garnish with chia seeds as desired.

Enjoy!
TO MAKE A VEGAN BOWL:
Switch out these ingredients and you'll have a purely plant-powered bowl: Chicken breast → (smoked) tofu / seitan / quinoa Egg → chickpeas / beans / peas / lentils Honey → agave nectar / (raw) sugar / maple syrup / rice syrup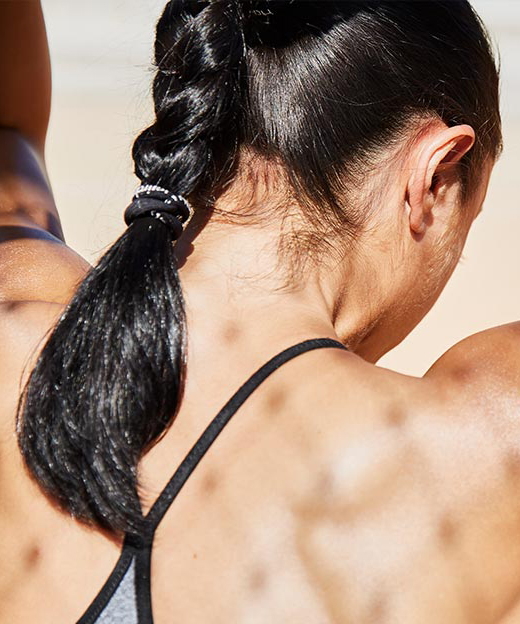 Free Body Check
Want to improve your nutrition? Our Body Check will help!
Personal BMI Calculation
Helpful nutrition advice
Products to help hit your goal
Get started