Steak Salad
with Coriander Crema, Peppers & Corn
Char grilled corn and peppers team up with a fresh coriander crema in this Mexican-inspired steak salad. The steak is rubbed with chipotle paste for a smoky, spicy flavour then grilled until medium-rare and sliced thick for a generous serving. Crisp romaine lettuce is the perfect bed for this meaty main.
Preparation
Allow the steak to come to room temperature. Rub the chipotle paste all over the steak and season with salt. Heat a griddle pan over a high heat and, once very hot, add the steak. Cook for 7-10 minutes total, flipping it over halfway through the cook time, until cooked to medium-rare. Remove from the griddle pan and place onto a cutting board. Leave to rest for 15 minutes then slice.

Meanwhile, grill the corn in the same grill pan over a high heat, turning occasionally, until slightly charred all over. Remove from the pan and set aside.

Add the peppers to the same grill pan and cook over a high heat, turning occasionally, until blackened all over. Remove from the heat and place the peppers into a bowl. Cover with a plate and set aside for 5 minutes to steam. Pierce each pepper to allow the steam to escape then, under cold running water, peel away the charred skin and remove the seeds & stem. Tear the pepper flesh into small strips.

Use a sharp knife to cut the kernels off the corn cobs. Chop the lettuce and add to a bowl along with the corn, pepper strips and thinly sliced onion.

Blitz all the coriander crema ingredients together, either in a blender/food processor, or in a jug using a hand blender, until smooth. Drizzle over the vegetables and toss to combine.

Tip the salad onto a serving plate and top with the sliced steak then serve.

Enjoy!
Looking for more satisfying, high-protein salads? Try this
Niçoise salad
- the ultimate salad for the Summer!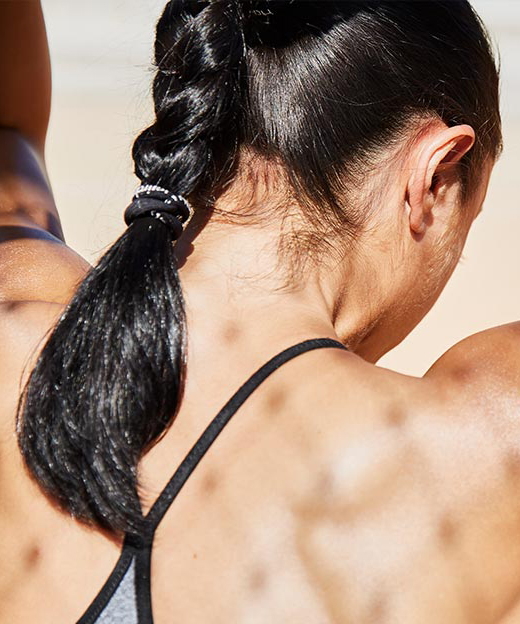 Free Body Check
Want to improve your nutrition? Our Body Check will help!
Personal BMI Calculation
Helpful nutrition advice
Products to help hit your goal
Get started