Salmon Caesar Salad
with a creamy Caesar salad dressing & soft boiled eggs
A warm salmon Caesar salad, with soft-boiled eggs, flaked parmesan cheese and protein bread croutons. It's dressed with a homemade, low-fat, high-protein Caesar salad dressing with anchovies and Greek yogurt.
Preparation
Preheat the oven to 150C/300F fan (170C/350F non-fan).

Place the salmon fillets onto a lined tray, sprinkle with a pinch each of black pepper and salt. Bake for 12-15 minutes until the fish is cooked through and flakes apart easily. Remove from the tray and set aside to cool. Peel away the skin and flake the fish into small pieces.

Turn the oven up to 230C/450F fan (250C/480F non-fan) and wipe the tray dry if it's wet. Cut the protein bread into small chunks and toss with the oil on the tray. Bake for 3-5 minutes until golden. Remove from the oven and set aside.

Bring a small pot of water to the boil on the stove then turn the heat down to low. Gently lower in the eggs and boil for 6 minutes. Remove from the water and immediately transfer to a bowl of cold water. Crack the shells of the eggs and peel away the shell.

For the dressing, blitz everything together in a blender (or in a bowl with a stick blender) until smooth, loosening with water as needed to make a pourable dressing.

Toss the salad leaves with the dressing and transfer to a salad plate. Flake the salmon and scatter over the salad with the croutons and parmesan. Cut the eggs into halves and dot over the salad then serve.

Enjoy!
If you'd prefer a chicken Caesar salad, replace the salmon with two cooked chicken breasts, sliced thinly.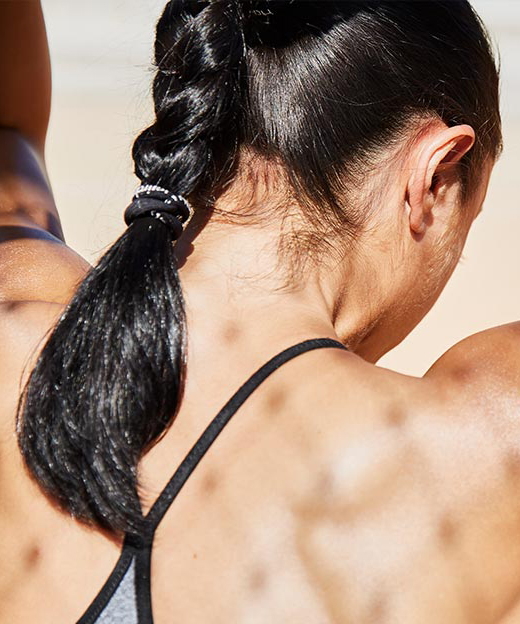 Free Body Check
Want to improve your nutrition? Our Body Check will help!
Personal BMI Calculation
Helpful nutrition advice
Products to help hit your goal
Get started