Peaches and Cream Crepes (High Protein)
filled with coconutty yogurt & maple-caramelised peaches
When you get some peaches which aren't quite ripe enough, you can salvage them by sautéing in a drizzle of maple syrup to serve in these peaches and cream crepes. Lacy-edged protein crepes, made with
vanilla whey
and
instant oats
are folded and filled with Greek yogurt which has bee lightly sweetened with our
coconut crisp protein cream
. Have them for breakfast or dessert, they're perfect for both!
Preparation
Combine the whey and oats in a medium bowl and stir to combine. Add the yogurt, water, egg and egg white. Whisk together until you get a smooth, thin batter.

Brush a medium non-stick frying pan with a thin layer of oil. Pour in around 3 tbsp (45ml) of batter, tilting and swirling the pan to spread it out into an even, thin crepe. Leave to cook over a medium heat until golden underneath then flip and cook until the other side is golden.

Remove the crepe from the pan and set aside. Repeat the cooking process with the remaining batter (you should make 4 crepes).

Keep the same frying pan on the heat and brush with a thin layer of oil. Add the peach slices and cook until golden all over. Add the maple syrup and stir gently to coat then remove from the heat.

Stir together the yogurt and protein cream in a small bowl.

Serve the crepes with the yogurt mixture and warm sauteed peaches.

Enjoy!
Craving a different fruity flavour? Try using sautéed bananas or halved strawberries and drizzle with our
hazelnut protein cream.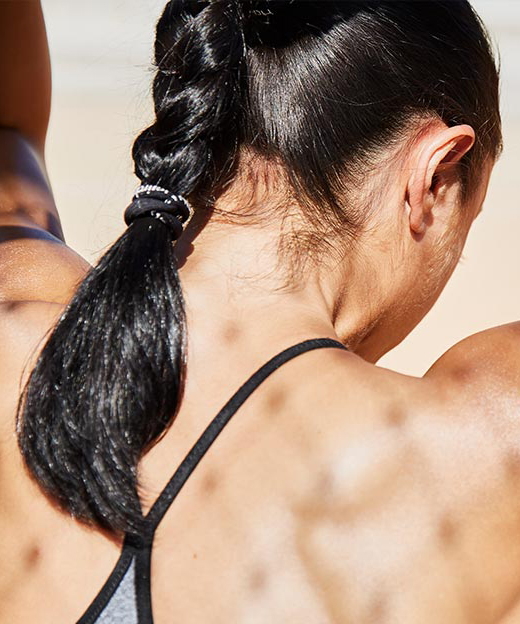 Free Body Check
Want to improve your nutrition? Our Body Check will help!
Personal BMI Calculation
Helpful nutrition advice
Products to help hit your goal
Get started