Pasta Salad with Asparagus and Pesto
gluten-free couldn't be easier
We guarantee you that this pasta salad beats anything with pesto out of a jar. Homemade pesto means you know exactly what's in it, down to the last grain of salt. Paired with fresh, crispy asparagus, our green pasta salad will stand out at any barbecue!
Preparation
Cook the pasta according to the directions on the package. Set aside to cool a bit.

Snap or cut off the woody ends of the asparagus spears, and cut the remaining asparagus into pieces. Heat the coconut oil in a pan over medium heat. Cook the asparagus 6-8 minutes until they are softened and a bit crispy. Season with salt and pepper.

To make the pesto: Get a high-sided bowl or container. Put the basil, olive oil, walnuts, garlic, salt, and pepper into the bowl and use a stick blender to puree until it is as smooth as you like it.

Put the pasta into a large bowl and stir in the pesto. Cut the cocktail tomatoes in half. Dice the sun-dried tomatoes. Add them both to the bowl. Now put in the cooked asparagus pieces and stir.

Finally, fold in the arugula (rocket) leaves, and season to taste as needed.

Enjoy!
Would you rather have a red pesto?
Try this recipe instead! 80g sun-dried tomatoes (dry, not in oil), 40g pine nuts, 1 clove garlic, 2 tbsp olive oil, a few basil leaves (optional), salt, and pepper. Puree with a stick blender.
What else can you put in a pasta salad?
Any and all veggies you love have a place in your pasta salad! Try sweetcorn, peas, carrots, olives, cucumbers, leeks, or any combination of fresh herbs. Proteins like tofu, crispy tempeh, or (for the omnivores) chicken strips, tuna, or feta cubes will also shine.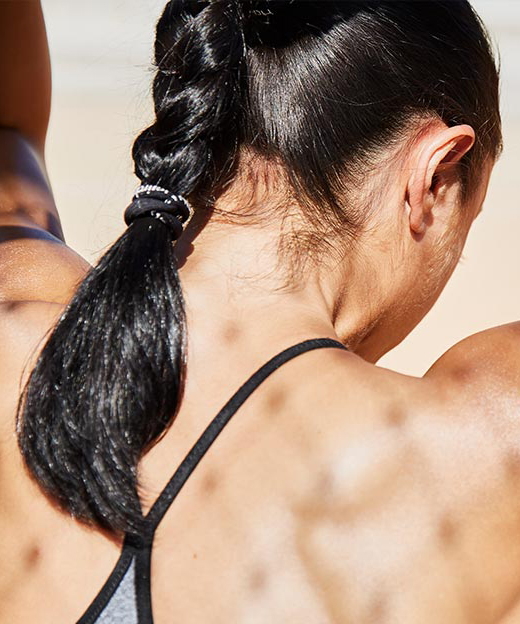 Free Body Check
Want to improve your nutrition? Our Body Check will help!
Personal BMI Calculation
Helpful nutrition advice
Products to help hit your goal
Get started