Loaded Hummus with Roasted Vegetables and Homemade Protein Naan
a colorful, high-protein plateful of bliss
Loaded French fries are so last year. Of course they can taste great, but let's keep in mind that our bodies need their daily servings of vegetables! That's why our loaded hummus has a heap of roasted veg paired with a creamy, dreamy hummus. What do we dip into the hummus? A homemade protein naan, obviously. Now doesn't that sound more refreshing than a pile of soggy chips?
Preparation
Preheat the oven to 200° C.

Ingredients:

40 g carrots , 100 g cauliflower , 40 g zucchini (courgette) , 0.5  onion , 0.5 tbsp vegetable oil , 0.25 tsp cayenne pepper , 0.25 tsp paprika ,   salt and pepper to taste

Karotten, Blumenkohl, Zucchini und Zwiebel in Mundgerechte Stücke schneiden. Rapsöl mit den Gewürzen vermengen und über das Gemüse geben. Für 20-25 Min. bei 200°C im Ofen garen. Cut the carrots, cucumber, courgette and onion into bite-sized pieces. Stir the spices into the vegetable oil, then drizzle or mix into the vegetables. Roast for 20-25 minutes at 200° C.

While the vegetables are roasting, make the hummus: First, juice the lemon.

Ingredients:

1 can chickpeas , 2 tbsp aquafaba (chickpea liquid) , 4 tsp , 2 tbsp tahini , 1 clove , 1 tsp ,   salt

Put all the ingredients into a food processor or blender (or use a bowl and a stick blender). Puree until smooth.

Spread the hummus on a plate.

To make the protein naan: Mix all the dry ingredients. Then add the vegan skyr yogurt. Knead until a smooth dough is formed. Roll the dough out.

Preheat a pan to medium heat. Add the coconut oil. Cook the naan on each side until golden-brown.

Ingredients:

  cocktail tomatoes ,   olives

Cut the tomatoes in quarters and the olives in half.

Top the loaded hummus with the warm roasted vegetables and the other toppings.

Garnish with fresh herbs if you like. Add pepper, salt, lemon juice, and a glug of olive oil on top. Serve with fresh naan.

Enjoy!
Our tip: Add some color to your loaded hummus
We love hummus. Why is it so special? Because you can make it so beautiful while playing with flavors at the same time! If you're looking for a brighter base for your roasted veg, toss in a few cooked beets while you're pureeing. Or if you'd rather go Mediterranean, turn things red with a few sun-dried tomatoes and a handful of fresh basil leaves.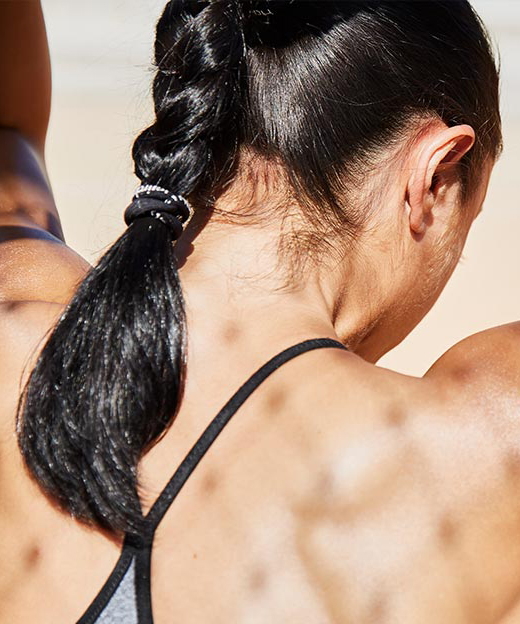 Free Body Check
Want to improve your nutrition? Our Body Check will help!
Personal BMI Calculation
Helpful nutrition advice
Products to help hit your goal
Get started