Garlic Ginger Salmon with Fried Rice
with a sticky, sweet glaze and fried cauliflower rice
Sticky garlic ginger salmon with fried rice, filled with veg for a healthy weeknight meal. We use a mixture of brown rice and riced cauliflower in our fried rice and add peas, carrots and spring onions for lots of flavour. A sweet & salty glaze of maple syrup and soy sauce flavoured with ginger and garlic is brushed onto grilled salmon fillets for a quick protein source.
Preparation
Cook the brown rice according to the directions on the packet then drain and set aside.

Cut the cauliflower into medium florets then blitz in a food processor until broken down into rice-sized pieces. If you don't have a food processor, you can use the coarse side of a box grater to grate the cauliflower instead.

Heat the coconut oil in a large, non-stick frying pan and add the diced carrot. Cook over a high heat, stirring occasionally, until starting to soften - around 5 minutes. Add the cauliflower and continue to cook until it starts to brown. Add in the cooked brown rice, sesame oil, fish sauce and peas, stirring until the peas have defrosted. Remove from the heat and garnish with the spring onions.

Preheat the oven grill to the highest setting.

For the salmon: Place the salmon skin side up on a baking sheet lightly brushed with some oil. Place under the grill for 5 minutes then flip so they're skin side down.

Warm the maple syrup, soy sauce, vinegar, garlic and ginger in a small pot over a medium heat until thickened slightly. Brush the flesh of the salmon fillets with this mixture and return to the oven to grill for a further 5-7 minutes, until cooked through.

Serve the salmon with the fried rice and any extra glaze mixture.

Enjoy!
If you're short on time, skip the glazed salmon fillets and just add a couple of scrambled eggs and some frozen prawns (or cubed tofu) to the fried rice for a quick stir-fry dinner.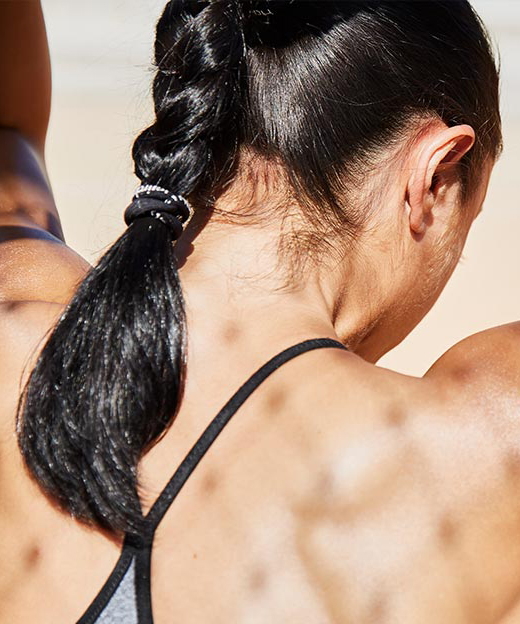 Free Body Check
Want to improve your nutrition? Our Body Check will help!
Personal BMI Calculation
Helpful nutrition advice
Products to help hit your goal
Get started