Daikon Pad Thai
crunchy vegetable noodles with a zingy fish sauce dressing
Using ribbons of daikon instead of rice noodles helps make a lower carb version of the classic pad Thai in this Daikon Pad Thai. Although it's far from authentic, the daikon noodles have a texture which holds up to stir-frying and absorbs the fragrant fish sauce dressing. We've added in scrambled egg and sautéed prawns for protein but feel free to use sautéed chicken breast or fried tofu instead if you prefer.
Preparation
Combine the dressing ingredients together in a small bowl and set aside.

If you have a juilienne peeler (or spiraliser) use it to shred the daikon and carrot into long, thin 'noodles'. If not, use a standard vegetable peeler to peel the daikon and carrot into long ribbons which you can stack and cut into thinner strips if you like.

Heat 1 tsp of the coconut oil in a medium, non-stick frying pan over a high heat. Once hot, add the bell pepper and stir fry for a few minutes until starting to brown. Add the bean sprouts along with the ribbons of carrot and daikon you prepped earlier. Cook for 2 minutes until the other vegetables have softened slightly then tip into a bowl and set aside.

Return the pan to the heat and add 1 tsp of coconut oil. Add the prawns and fry until pink and cooked through then remove from the pan to the same bowl as the vegetables.

Return the pan to the heat again and add the final 1 tsp of coconut oil. Crack the eggs into a small bowl and whisk together then pour into the hot pan. Stir occasionally to scramble the eggs into large pieces which are cooked through. Tip this into the bowl with the vegetables and prawns.

Pour the dressing over the contents of the bowl and toss together. Transfer to a plate and garnish the daikon pad Thai with the peanuts, coriander and spring onions then serve.

Enjoy!
If you don't want to make a daikon pad Thai, try replacing the daikon radish with spiralised/julienned courgette (zucchini) instead.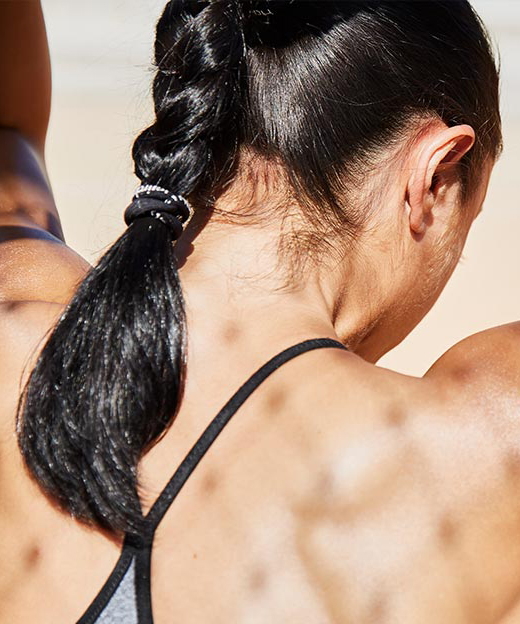 Free Body Check
Want to improve your nutrition? Our Body Check will help!
Personal BMI Calculation
Helpful nutrition advice
Products to help hit your goal
Get started