Beef and Aubergine Burgers
the most succulent home-made burgers
These beef and aubergine burgers are so succulent and flavourful. Lean beef mince is mixed with cooked, mashed aubergine to lock in moisture and make your burgers extra tender, whilst a scoop of neutral protein powder enhances the protein content. Served with home-made burger buns, a quick tomato relish and a spicy sriracha mayo.
Preparation
For the buns: Combine the yeast and water in a medium bowl. Add the flour, pancake mix and salt, stir to get a rough dough. Tip the contents of the bowl out onto a clean work surface and knead for 5 minutes to bring the dough together, dusting with a little extra flour if needed to prevent sticking.

Return the dough to the bowl, drizzle on a little bit of oil and turn to coat. Cover the bowl with a clean, damp tea towel and leave somewhere warm for 30 minutes.

After this time, punch the dough down and divide into 4 balls. Place onto a lined tray and leave somewhere warm for another 30 minutes. Meanwhile preheat the oven to 160C / 320F fan or 180C / 350F non-fan. Uncover the dough and bake the buns for 15-20 minutes until golden on top.

For the burgers: Heat the oil in a large, non-stick frying pan over a medium-low heat. Add the aubergine chunks and stir. Season with a pinch of salt and cover with a lid then cook for 10-15 minutes until very soft. Tip the cooked aubergine into a large bowl and mash with a fork then allow to cool. Mix in the ground beef, protein powder, breadcrumbs and worcestershire sauce. Use your hands to mix everything together until just combined.

Divide the mixture into 4 and pat down to form burger shapes. Fry in a non-stick pan over a high heat until golden underneath. Flip and let cook on the other side until golden.

For the chutney: Combine the shallot, tomato, honey and vinegar in a small pot. Cook over a low heat, stirring occasionally, until reduced by around half.

To serve: Mix the mayonnaise and sriracha together in a small bowl. Cut the buns in half and fill with the shredded lettuce, a burger, some sriracha mayo and tomato chutney.

Enjoy!
For a quicker way to do home-made burger buns, use our
protein bread mix
. Mix the dough according to the directions on the packet but divide into 4 balls and bake for only 15-20 minutes until golden and cooked through.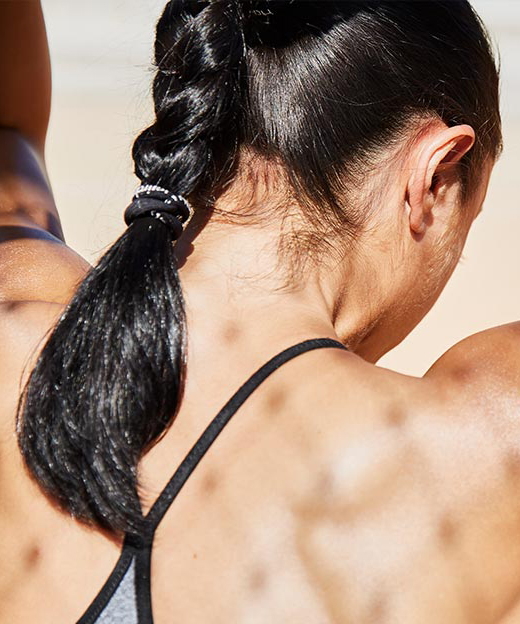 Free Body Check
Want to improve your nutrition? Our Body Check will help!
Personal BMI Calculation
Helpful nutrition advice
Products to help hit your goal
Get started